ID: MRFR/ICT/0411-CR | August, 2019 | Region: Global | 102 pages
Global Virtual Reality Market Research Report: by Component (Hardware and Software), by Device Type (Head-Mounted Displays, Gesture Tracking Device, Projectors and Display Walls and 3D Cameras), by Technology (Non-Immersive, Semi-Immersive and Fully Immersive), by Vertical (Consumer Electronics, Aerospace and Defense, Healthcare, Commercial, Industrial and others) and Region (North America, Europe, Asia-Pacific, ROW) – Forecast till 2027
Market Snapshot
The Global Virtual Reality Market is expected to expand at a CAGR of 37.4% during the forecast period 2017–2027.
Growing demand for head-mounted display (HMD) in the gaming and entertainment industry and implementation of VR as a part of marketing strategy are the factors driving the demand of global virtual reality market. HMD's are used in entertainment and gaming sector which provides a total immersive experience for the user. HMDs allow players to make different motions to operate the game thereby making players experience the virtual world. The ability to track the motion and orientation of the user's head is the distinctive feature in an HMD which is the primary reason for its increasing adoption. Many developers are sticking to HMD technology since they do not require any other additional hardware for controlling the game. Virtual reality in theme parks is finding stronger base by offering virtual roller coaster rides. These rides combine a real-world roller coaster with a head-mounted display, in which the visuals can be changed by using animation techniques
Moreover, the market also seeks opportunities from the integration of 5G with VR and advancements in fully immersive technology. However, the high cost of manufacturing due to SoC integration is the major challenge faced by the market vendors.
Virtual reality in healthcare is expanding providing many benefits such as surgery simulation, robotic surgery, and skills training. The major advantage of VR in healthcare is that it assists healthcare professionals in acquiring new skills and training on new operating procedures which can be practiced in a safe environment. In the field of diagnostics, virtual reality helps medical practitioners to obtain better insights as compared to MRI scans and other methods, thereby eliminating the need for invasive procedures or surgeries, unless absolutely required. Samsung Electronics, Facebook Inc., Google LLC, Microsoft Corporation, and Sony Corporation are the major players operating the global VR market.
Regional Analysis
Global Virtual Reality Market, By Region, 2017 (%)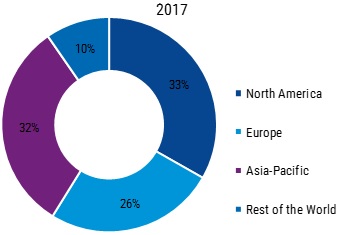 Source: MRFR Analysis
Virtual reality Market by region has been segmented into North America, Europe, Asia-Pacific, and the rest of the world. North America accounted for the largest market share of 33.33% in 2017, with a market value of USD 1.4 billion; the market is expected to register a CAGR of 36.78% during the forecast period. The growth in the North American market is driven by the presence of major virtual reality hardware and software developers such as Microsoft Corporation, Google LLC, and Facebook Inc. Moreover, the rising demand for consumer electronics based VR applications in the region is further expected to propel the virtual reality market in North America in the near future. Asia-Pacific was the second-largest market in 2017, valued at USD 1.35 billion; it is projected to grow at the highest CAGR of 40.56%. Increasing investments in the technological developments and rising adoption of HMD for simulation and training purposes is driving the market growth in the region.
Companies Covered
The key players of global virtual reality market are Microsoft Corporation (US), Sony Corporation (Japan), Google LLC (US), Qualcomm Technologies, Inc (US), Facebook, Inc (US), Samsung Electronics (South Korea), Vuzix Corporation (US), Sensics, Inc. (US), Eon Reality, Inc. (US), Avegant Corporation (US), and Sixense Entertainment, Inc. (US).
Key Developments
In July 2018, Samsung Electronics America, Inc., a subsidiary of Samsung Electronics launched "A Moon for All Mankind" (AMFAM), an immersive, consumer-focused 4D lunar gravity virtual reality (VR) experience developed in collaboration with NASA. With the Samsung Galaxy S9+ and Gear VR powered by Oculus, the users immerse themselves in a visual and physical VR experience which recreates a fictional moon mission, allowing consumers to experience lunar gravity.
In March 2018, Qualcomm released Qualcomm Snapdragon XR1 Platform. The XR1 Platform is a dedicated Extended Reality (XR) platform which offers high-quality XR experiences and enables OEMs to develop mainstream devices. The platform has special optimizations for augmented reality (AR) and virtual reality (VR) experiences with artificial intelligence (AI) capabilities to offer better interactivity, power consumption, and thermal efficiency.
Market Segmentation
By Component – Hardware (Semiconductor Components, Sensors, and Displays) and Software (Software Development Kits and Cloud-Based)
By Device Type – Head-Mounted Displays, Gesture Tracking Devices, Projectors & Display Walls, and 3D Cameras
By Technology – Non-Immersive, Semi-Immersive, and Fully Immersive
By Vertical – Consumer Electronics, Aerospace & Defense, Healthcare, Commercial, Industrial, and Others
Key questions addressed by the report
What was the historic market size (2016)?
Which segmentation (Component/ Device Type/ Technology/ Vertical) is driving market?
What will be the growth rate by 2027?
Who are the key players in this market?
What are the strategies adopted by key players?
Global Virtual Reality Market: Report Summary
The global virtual reality market is anticipated to reach USD 101.26 Bn by 2027, expanding at a stellar CAGR during the assessment period (2017-2027). Technological advances in virtual reality (VR) coupled with head-mounted displays (HMDs) is anticipated to augur market growth over the forecast period. Development of games, which provide an immersive experience to gamers and enthusiasts is expected to entice users from different age groups.
Entertainment studios and their affiliate amusement parks are leveraging the VR technology to attract consumers. Prominent companies such as Microsoft Corporation, Google, LLC, and Facebook are investing in research and development to produce comfortable devices. The user experience is a factor which can influence the future of the VR market. Future applications in sectors such as education and healthcare can pave open new avenues for the market over the forecast period.
The virtual reality market has been segmented based on component, device type, technology, industry vertical, and region. On the basis of component, the market is segmented into hardware and software. In 2016, the hardware segment commanded a major share of the global virtual reality market. Demand for HMDs coupled with the falling prices of displays is like to drive the segment's growth in 2018 and beyond. Consumer-ready headsets to experience VR can expedite the segment growth over the forecast period.
On the basis of device type, the market has been segmented into gesture tracking devices, projectors and display walls, 3D cameras, and head-mounted displays (HMD). The HMD segment accounted for a major share of the global market in 2016. It is expected to continue its dominance over the forecast period. The gesture tracking devices segment is anticipated to gain traction due to application in defense, architecture, and design sectors. By technology, the market has been segmented into fully immersive, semi-immersive, and non-immersive. The fully immersive segment currently commands a large share of the market. This segment is expected to soar further and exhibit a 39.84% CAGR during the forecast period. Haptic gloves and other wearables are being researched by various companies to this effect. In 2018, Microsoft Corporation launched Microsoft Layout, a mobile application for VR headsets. This application lets users virtually move 3D objects on a floor plan, making it easy for architects to check their designs.
On the basis of industry vertical, the market has been segmented into industrial, commercial, healthcare, aerospace and defense, consumer electronics, and others. In 2016, the consumer electronics segment commanded the largest share of the market. Factors credited to the segment's success are the widespread availability of smartphones, sensors and graphic cards that support VR, and increased purchase of these items by consumers.
Regional Analysis
On the basis of regions, the global virtual reality market has been segmented into North America, South America, Europe, Asia Pacific, and the Middle East and Africa.
The North America market is anticipated to expand in size at a 36.78% CAGR over the forecast period. Continuous technical advances in technology coupled with adoption of networking technologies such as 5G and long-term evolution (LTE) are expected to offer tailwinds to the market.
The Asia Pacific market is estimated to exhibit a robust growth rate during the forecast period. Companies from various sectors are relying on VR to advertise their product to consumers. Brands such as McDonald's and Marriott International have employed VR to garner attention and gain new followers on social media. For instance, Marriott launched the Teleporter, a VR device capable of transporting viewers to various travel destinations. It uses 360-degree video with computer-generated imagery (CGI) to make viewers feel, touch, and sense beautiful sceneries.
Competitive Analysis
Sensics, Inc (Columbia), Samsung Electronics (South Korea), Qualcomm Technologies, Inc (U.S.), Google, LLC (U.S.), Microsoft Corporation (U.S.), Sixense Entertainment, Inc (U.S.), Sony Corporation (Japan), Vuzix Corporation (U.S.), Facebook, Inc (U.S.), Avegant Corporation (U.S.), Eon Reality, Inc (U.S.), and others are prominent names in the virtual reality market. Upgrades in technology coupled with advances in experimental computing are expected to attract customers. Mergers and acquisitions, expansions, and investments by major players are growth strategies being employed to sustain their market position.
New Technological advancements in the field of virtual Reality market
A few players currently dominate the virtual reality market. Of all, Samsung Electronics is the leading market player. Samsung Electronics is the manufacturer of electronics and computer peripherals and also engages in selling and distribution of the same. The company's primary strategy revolves around partnerships. Samsung has their reach all across the globe. The company firmly believes in acquisitions, could change the way enterprises progress.
Facebook takes the second spot. Facebook currently owns many applications and services such as Pagemodo Pagebuilder, RSS Graffiti, Huddle, and more. Facebook is on the verge of becoming one of the fastest companies to capture market value of nearly USD 250 billion. The strategy focuses on product development and partnership and expanding their footprint in various technology segments by the acquisition of key players in the market.
Google has successfully taken the third spot in virtual reality market. The company operates in the Americas, EMEA, and Asia Pacific region. Google has marked their footprint in hardware by introducing Nexus devices and released a number of hardware devices such as Home Smart speaker, Pixel smartphone, and VR headsets. The company focuses on both innovation and acquisition and is well-known for its technology.
Microsoft has acquired the 4th place. It offers applications for distributed computing environments, productivity applications, business solution applications, desktop and server management tools, software development tools and many more. The company operates globally and has offices in more than 190 countries. As on 30th June 2017, the total revenue of the company was USD 89.3 billion and had approximately 114,000 employees.
Sony Corporation occupies the last spot among the top five market players. The company has production centers, research and development engineers, and personalization & data centers across the globe including Japan, U.S., India, Taiwan, U.K., China, Germany, and North Korea among others with a strength of more than 128,400 employees. The company provides solutions that are specific and customizable, according to the client needs. Other prominent players in the market include Qualcomm, Vuzix Corporation, Sensics, Inc, Eon Reality, Avegant Corporation, and Sixense Entertainment among others.